I recently landed back home in Boston after spending most of my summer in Nairobi, Kenya researching cross-cultural early childhood development with Universal Baby. Universal Baby is a public health, caregiver coaching intervention that creates videos to share current neuroscience and child development information across the globe.
Towards the end of my time in Kenya, I visited a Maasai Village in Kajiado South sub-county, about 5-6 hours outside of the Nairobi. The Maasai are one of Kenya's ethnic tribes, originally from the lower Nile Valley. I embarked on this journey, acutely aware of how the injustice and violence of colonialism has shaped the education systems and subsequent socioeconomic advancements in Kenya.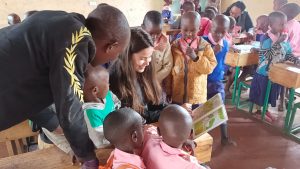 We stopped for the night in the rural town of Bisil before starting off early the following morning for the village, passing giraffes and ostriches on the drive there. Our first stop was Loolkair Primary School, a K-8 school with nearly 400 students and only eight teachers. As we arrived, hundreds of students in purple uniforms circled around us and bowed, waiting for us to touch their heads, a typical way to greet children in Maasai culture.
Soon after, we met the head teacher. He taught us about the background of
the school and toured us around the grounds. A tin and wooden structure stood out. It was an old kitchen that had been out of commission for years. Because nearly all of the students' families don't have the means to send their children to school with food and the school is no longer able to supply meals, most students have nothing to eat during the entire school day.
Next, we visited a couple of the younger classes. We gave them snacks and read books to them with the help of a translator. We also joined in outdoor activities and led a "Simon Says" game inside.
After the primary school visit, we drove to a couple of the students' homes in the community and gave them flour and other food supplies to cook with. We sat inside their houses (called "mayattas") and chatted with mothers and grandmothers. Each family offered multiple times to cook for us, and the mothers of two households took off the beaded necklaces they were wearing and insisted on giving them to me. Despite having so little (the typical Maasai family survives on less than $1 per day), the people we met showed us immense generosity.
This trip to Kajidao was connected to a partnership with Community Initiatives Agenda, an organization that promotes the education of Maasai girls. A common custom in the Maasai culture is marrying off young girls in exchange for cattle. This means that only a small percentage of Maasai girls complete primary school, and even fewer attend secondary school or college. Once a girl is married, her primary roles are wife and mother, leaving her education behind.
My work this summer with Universal Baby (UB) and with Community Initiatives Agenda focused on the cross-cultural exchange of information. UB recognizes that while there are many universal aspects of early childhood development (ECD), there are also many culturally specific ones. To this end, UB works to decolonize and de-westernize ECD materials, ultimately creating a global repository of tools that highlight the culturally specific aspects of childcare across many global contexts.
Before my trip to Kenya, I recognized the importance of celebrating and understanding diversity of culture when implementing educational interventions. However, all types of education reform are complicated, even more so in previously colonized countries. In addition to honoring local cultural practices, it is necessary to understand the history of imperialism and other outside influences in the particular context you are working in.
Specifically, in order to promote information related to education of young Maasai girls, it is crucial to first understand that for 60 years of Kenya's history, the process of idea exchange was entirely unidirectional and forcibly imposed by British rulers. The brutal history of British colonialism has significantly hindered rates of education in the Maasai community. During colonial rule, the Maasai were the only ethnic group barred from access to education, healthcare, as well as many other rights. This discrimination and restriction disrupted educational progress for the Maasai, pushing them far behind the rest of the country.
The visit to the Maasai village, along with many of my other experiences working in education centers in Nairobi, made it abundantly clear to me how, in addition to honoring culture, it is essential to critically engage with the history of education and information exchange in that location. Without this careful attention, we risk erasing the violent histories many people have endured. UB is committed to driving all parts of the intervention and research process in collaboration with local voices, communities, and cultures. As a team, we had frequent dialogues and meetings with local staff
and families at our community partners. Our aim was to solicit their feedback on the current status of our projects, and in particular, to determine if the projects were inline with, and respectful of, the truths and values of their community.
I recognize that I am merely beginning my journey of global health research and interventions. However, I know that before any change or development can be pursued, the history of the people and the place impacted must be carefully understood. This can enable a departure from projects and interventions that impose Western ideals of progress, enabling a two-way exchange of research and interventions.