Sunday marked the first full week that the rest of the students from the Kenyan Reproductive Health SRT team and I have been in Kisumu, Kenya. Our experience thus far has been full of introductions and familiarizations, and we have had an exciting time learning from the field while finding our footing in a new area. After we flew into Kisumu, we were able to get situated in our new living space and learn to make ourselves at home for the next two months, starting to cook for ourselves and establishing new rituals (like bonding through watching Suits together during dinner). We have learned to navigate some parts of the town with the help of our local partners, learning where to buy groceries and hot meals, and we have done a bit of exploring on the weekends and our walks to work. Although moving to an unfamiliar area has been challenging, we have been able to improvise and overcome to all the obstacles that have come our way, and we are continuing to figure out our schedule and roles in our research project.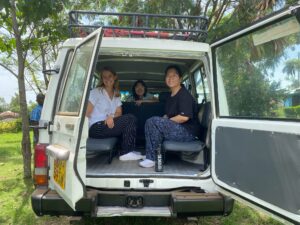 In the week that we have been here, our local partners have guided us through the ins and outs of our project and helped us develop a schedule for the weeks to come. We have already been able to visit multiple study sites and meet with medical staff and caregivers at the clinics the team will be working with, learning more about clinic workflow and Kisumu's culture of care. Along with our clinical officer and research coordinator, we have been able to talk with community health volunteers and other individuals involved with community-based education and prevention of HPV and cervical cancer. We have been learning a lot about HPV self-testing, data collection methods, and recruitment for focus group discussions, and being in the field has shown me how important community-based methods are for overall health.
In the next few weeks, our team is looking forward to exploring Kenya a bit more before our study observations start. After visiting some national parks and going on hikes, we plan on going to each of our clinic sites weekly to do observations on the clinic workflow and collect data to evaluate the efficacy of our educational program. I am really looking forward to working with the SRT team to learn more this summer and get more experience in the field. I can't wait for all that we have in store for the next seven weeks!