Although stigma surrounding menstruation exists around the world, this stigma manifests in a way that has a deeply negative effect on the lives of menstruators in some communities in India. In these communities, periods are treated as dirty and impure. Many menstruators are not allowed to pray, go to the temple, or enter the kitchen while on their period. Due to the negative stigma surrounding menstruation, menstruators in these communities do not discuss menstruation. Many men do not even know what menstruation is. Menstruators feel ashamed buying sanitary pads from male workers at health stores and are thus forced to use unsanitary cloth rags during their cycles. As a result of the lack of access to proper menstrual hygiene products and community support, in some Indian communities, young menstruators are forced to end their education after they get their period. 
Despite how pervasive this taboo is in many Indian communities, there are a variety of efforts to combat this detrimental stigma. Through the media, films such as Bollywood's Padman, and Oscar-winning documentary "Period. End of Sentence." have brought light to the state of menstruation in India. In addition to
these films, many NGOs and nonprofits are working within India to combat the stigma. One such organization is the Myna Mahila Foundation. Founded by Duke alumnus, Suhani Jalota, Myna focuses its efforts on improving menstrual health and awareness in the most impoverished neighborhoods of Mumbai. Myna employs menstruators from these communities to produce pads that are then sold door to door in these communities, directly serving the menstruators of the community. Myna also hosts educational workshops for young menstruators in these communities, teaching them how to navigate menstrual hygiene and reproductive health safely. 
One particularly notable initiative of Myna Mahila is their annual Pad Parade. Conducted every year on Menstrual Hygiene Day, May 28th, people flood the streets of many of Mumbai's more impoverished communities, spreading awareness about menstrual hygiene. Myna has held three Pad Parades in the past and they will be holding one in 2022 as well. 
I was able to speak with Sakshi Shah, the Resource Mobilization Executive at Myna, to get more details about the Pad Parade. The 2022 Parade will take place in five neighborhoods in Mumbai. Typically around 200 community members join together to participate in the Pad Parade. Notably, it is not just young menstruators participating, men and young boys also take part in this initiative. These community members walk through the streets of these neighborhoods shouting slogans conveying the message that periods/menstruation are normal,
not dirty, and that menstruators should not be treated differently when they are on their period. Additionally, a group of young menstruators known as Myna dosts, or "friends of Myna" who are aged 14 to 15 create posters and banners to be carried throughout the neighborhoods. Myna also uses this as an opportunity to sell their community produced sanitary products at discounted prices. The Pad Parade is a large event that is advertised weeks in advance with Myna advocates going door to door in the neighborhoods to let the community know about the upcoming event. More information about the Pad Parade can be found at https://mynamahila.com/ or on the official Myna Mahila Instagram. 
By working to destroy the stigma surrounding menstruation, organizations like Myna are able to contribute to the greater mission of female empowerment. Young menstruators should not be raised to fear their bodies. Nothing about a natural bodily process such as menstruation can ever be inherently negative. Though the stigma surrounding periods may seem relatively minor in comparison to other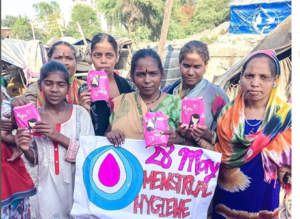 issues surrounding reproductive health in the world today, it still serves to create the harmful perception that sexual and reproductive health is something to be consigned to the corners of society, to be ignored and minimized. By failing to teach young menstruators about reproductive health at puberty, as a society we are setting the groundwork that their reproductive health is not of value. Progress in reproductive health starts  at the ground level by ensuring that young people understand the importance of SRH, and organizations like Myna are working towards making a difference. 
References
Myna Mahila Foundation. (n.d). Increase women's agency and decision making power to make them more confident, financially independent and healthy. https://mynamahila.com/ 
*Some information attained from the author, Vidita Shah's, personal experience working with Myna Mahila Foundation