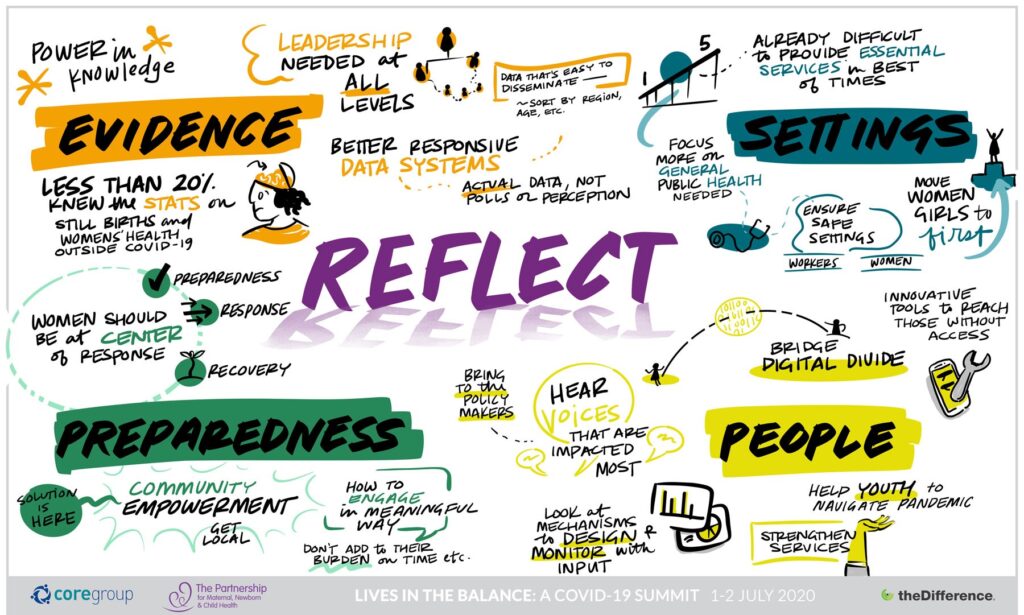 By: Sandra Yvonne Oketch
COVID-19 has impacted negatively the women's, children and adolescents' health and wellbeing in immeasurable ways. The Lives in the balance COVID- 19 virtual summit held on July 1 and 2, 2020 brought together experts from different fields for an opportunity to listen, discuss and actually reflect on COVID-19 impact and collectively work on a healthy recovery. The breakout sessions included reflections on: One, understanding the humanitarian and fragile settings around protecting the most undeserved including women, children and adolescents; Two, the preparedness in protecting the most undeserved including women, children and adolescents in humanitarian and fragile settings.
SETTINGS. Protecting the most undeserved: women, children and adolescents in humanitarian and fragile settings
This session was facilitated by Marydale Oppert from International Rescue Committee, IRC who discussed on ways to protect the undeserved in humanitarian and fragile settings. IRC works in over 40 countries in the world mostly with displaced populations and refugees. The pandemic has led to increased disparities in access to clean water, shelter, health care and education empowerment of the displaced populations. There has been need to make substantive changes to these programming with the COVID-19 wake. Some of the key challenges have been, in the provision and access of sexual reproductive health and rights (SRHR) services and gender based services. The pandemic has led to many travel restrictions and even lock downs, which has led to increased partner violence (IPV) and decreased reporting in child protection services despite evidence indicating rise of abuse of cases (60% to 75% of women and children experiencing abuse).
Marydale highlighted the importance in strengthening the social protection by reinforcing the social protection services for gender based violence victims. Also, the need to have efficient strategies in place to increase access to SRHR as countries slowly lift restrictions. Some of the strategies that IRC is putting in place to ensure social protection and access to SRHR services include: community engagements through trainings of health care providers and community health workers to ensure continued service provisions; ensuring the providers and clients safety through decongestion of the safe spaces for the abuse survivors, holding outdoor meetings, remote case management except for most acute gender based violence (GBV) cases where home visits are conducted through reinforced infection prevention and control measures through the use of personal protective equipment (PPE) and observance of social distancing; moved the socio-psychological support to mobile and hotlines' communication; re-organised the health facilities offering the SRHR services to ensure minimum interactions to avoid exposure with COVID-19 patients, building the capacity and supplies for the PPE for infection prevention and control and ensure the provider and client safety during consultation visits; revised the service delivery protocols to bundle the health care services as much as possible to reduce the frequency visits and interactions to minimize the risks of transmission; increased knowledge and products needed for self-care to reduce the health facility burden as much as possible; stocking of enough supplies and commodities to foster continuum of care in case of any supply chain disruption during the current pandemic.
Marydale ended on a high note with the below statement, "It is essential that we find solutions that are adoptive, flexible and that coordinate and collaborate with Governments and other partners to find ways to provide those services and to ensure that we are providing care for our staff, our clients and our communities".
The next speaker was Dr. Marleen Timmerman, a gynecologist working on reproductive, maternal and newborn health, with over 40 years of experience, and currently based in Kenya shared some of her experiences with reproductive, maternal and child health care during the COVID-19 pandemic. She mentioned that, there are reversed global gains in the sexual reproductive health (SRH), maternal and child care due to decreased access of these services. The case in points include: decrease in deliveries as women do not get to maternity due to the curfews and other mitigation measures put in place, in informal settlements, the daily health facility deliveries have been halved from approximately 80 to 40 risking the shift from facility to home deliveries; women are scared reaching the health facilities for fear of contracting the virus at the health facilities therefore prefer not to seek SRH and other health care services; women have limited access to contraceptives which may lead to unwanted pregnancies and currently getting more cases of teenage pregnancies. The teenage pregnancies have been exacerbated by the fact that most teenagers are out of school due to the current pandemic and have limited access to contraceptive information and use. There is also an increase in sexual violence among this population with the perpetrators being those very close to them and who are supposed to be protecting them i.e. family members, neighbors and friends and unfortunately they cannot escape.
Dr. Timmerman reiterated that, "We need not to close our eyes to these vulnerable populations and that is why we need to come together and invest in public health".
PREPAREDNESS. Protecting the most undeserved: women, children and adolescents in humanitarian and fragile settings
Sophie Harman, Professor of International Politics at Queen Mary University facilitated this session and led the discussions around preparedness during pandemics looking at this in a gender lens. Professor Sophie observes that, the tendencies of responders in previous public health pandemics usually, is to address the immediate crisis by focusing on the crisis to prevent from spreading. This therefore leads to various consequences to the most vulnerable of our populations and these include the women, children and adolescents by excluding women's gender issues which unfortunately has immediate impacts and long term consequences to women.
She did emphasize the relevance of having a gender approach in humanitarian settings during the COVID-19 pandemic because women are vulnerable as frontline workers in the COVID-19 response with majority of care workers being women. Secondly, women are frontline in their own homes providing key services in nurturing, domestic chores and home schooling therefore women face additional burdens exacerbated by public health emergencies increasing the already existent inequalities. Thirdly, women predominantly experience different forms of violence and restrictions based on the quarantine systems which restrict the women to unsafe spaces. Finally, women face economic set downs and inability to sustain their livelihoods.
The suggested strategies to ensure preparedness in pandemics include: mobilizing women to act and participate in civil societies meetings and engaging the actors to address women's issues; supporting and advocating for gender experts in the policy making spaces in every stage of the COVID-19 response i.e. preparedness, immediate response or recovery and the need to target appropriate interventions.