By: Sandra Yvonne Oketch
The Lives in the balance COVID- 19 virtual summit on July 1 and 2 had an interesting breakout session examining evidence on COVID-19 impact on the health of women, children and adolescents. This session was facilitated by Joy Lawn, Professor, London School of Hygiene & Tropical Medicine.
It is important to note that in 2019, there were already over 9 million deaths of women and children, with over 50% of these deaths related to pregnancy and birth. This current pandemic exacerbates this situation and undermines the 'Every Woman Every Child' campaign efforts.  The 'Every Woman Every Child' campaign is a global movement launched by the United Nations that mobilizes and intensifies actors including International and National action by Governments, multilaterals and civil societies to address the major health challenges facing women and children globally. Some of the campaign's targets to end preventable death for women and children and ensure their health and well-being include: No woman should die while giving birth; No baby stillborn; No newborn to die; No child dying or stunted and Healthy adolescents. Unfortunately, in 2019, the women who died while giving birth was 303,000, the stillborn was 2.6 million, new born deaths was 2.5 million, the children who died or were stunted was 2.8 million and the adolescents who died were 0.8 million. There is need to be cognizant of the impact of COVID-19 pandemic adds to the already burdened deaths from 2019.
It was interesting to see how data and science is playing out during the current pandemic, where in just 110 days, there were over 26,000 publications with 68% open science and over 100 vaccines in development; "this really is not from the scientists pushing it out but by demand and we don't see this kind of science demand in children's and women's health" (Joy Lawn). It is of concern that, most of the COVID-19 science is disease centered for instance, most of the publications is on the epidemiology of the disease and thus need to have concerted efforts to a people centered approach by showing evidence on the pandemic's impact on health and economy especially the most vulnerable who include women, newborns, children and adolescents.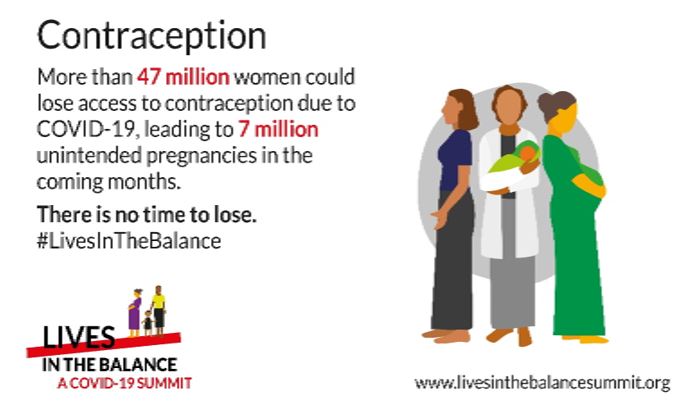 Evidently, there has been disruptions of health services as more joint efforts are put to address the COVID-19 pandemic and therefore urgent need to protect these services to promote the health and well-being of women, adolescents and children. The essential health services that need to be protected to avert even more deaths during this current pandemic include: One, to avert maternal and still births, the services needed are antenatal care, postnatal care, sexual reproductive health (SRH) services, management of chronic conditions and mental health, care at birth for women and babies. Two, the services to protect newborns deaths are immediate newborn care, postnatal care, breastfeeding support and care for small and sick newborns. Three, services to prevent the child and adolescent's deaths are nutrition services, immunizations, chronic conditions and most importantly for the adolescents is mental health and SRH.
Also, there are key intersectoral protection services that are impactful to women, adolescents and child health and these include:  gender base violence (GBV); social supports for pregnant women, new mothers and babies; nutrition and food systems; water sanitation and hygiene (WASH); education and employment.
The evidence from previous epidemics depict falling health care coverage during that time. During the 2014 Ebola outbreaks, there was reduction in outpatient services, 27% in West Africa which is a resource limited setting with weaker health systems and more reduction in inpatient services at >44% (Elston JWT, et al., 2017 and Jones SA, et al., 2016).  Notably, this reduction in both outpatient and inpatient services was also experienced during the SARS outbreak in 2003 in South East Asia at 24% and 35% respectively which apparently has strong health care systems (Chang HJ, et al., 2004). It is important to note that these publications were made 2 years later unlike in the current pandemic with overwhelming data.
Where are we with the health care coverage of essential health services? WHO conducted an essential services survey in 89 countries where, >50% of countries reported moderate/ severe outpatient disruptions and >30% of countries reported moderate/severe disruptions in outpatient services. Some of the immediate gaps we have with the evidence is that, these are surveys of perceptions there are several modelling exercises particularly on sexual and reproductive health effects led by UNFPA and maternal and child deaths modelling exercise. "But, we have lack of primary data and most modelling exercises have focused on one part of the continuum of care where there is no consistent examination of what is happening across the continuum for women, children and adolescents". (Joy Lawn).
Some of the suggested ways to build evidence from a disease-centered to a people-centered approach is to have primary data for the indirect effects and not just modelling on the outcomes for the women, adolescents and children followed with solutions. There is need to protect these essential services, share and implement what works.
Works cited
Elston JWT, et al. The health impact of the 2014-15 Ebola outbreak. Public Health 2017; 143; 60-70.
Jones SA, et al. 'Women + babies are dying but not of Ebola': the effect of the Ebola virus epidemic on the availability, uptake and outcomes of maternal and newborn health services in Sierra Leone. BMJ Global Health 2016;1.
Chang HJ, et al. Impact of SARS epidemic on the utilization of medical services: SARS and the fear of SARS. American Journal of Public Health 2004; 94:562-4