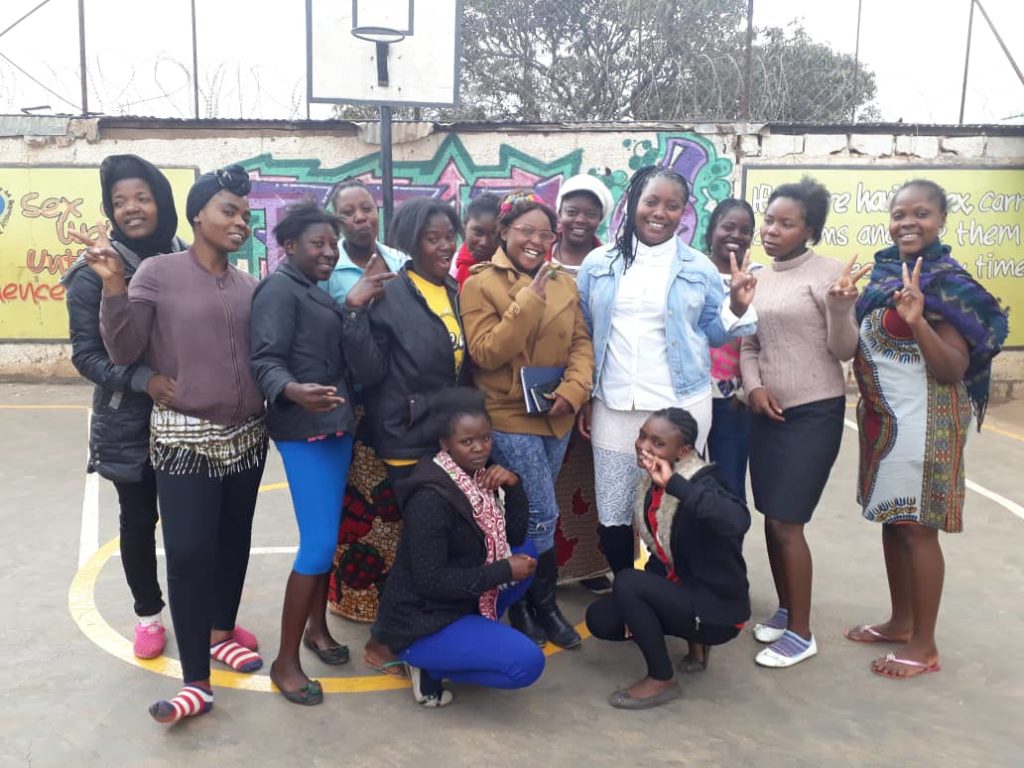 Most cervical cancer is highly preventable and can be cured if diagnosed early, yet women across the world suffer high rates of cervical cancer. One such place is Zambia, where the Rakellz Dream Initiative was founded. After losing his wife to cervical cancer in 2015, Robert Zulu decided to launch a cervical cancer education program in Zambia. Now at 36 years old, he is the the founder and executive director of the Rakellz Dream Initiative, a non-governmental organization with a team of over 50 youth volunteers working to raise awareness around cervical cancer through outreach activities and informational films. The long-term vision of the Rakellz Dream Initiative is to help increase cervical cancer knowledge across Zambia to mitigate and prevent terminal diagnoses by the year 2025.
When he spoke about his reasons for forming the Rakellz Dream Initiative, Zulu said he wanted to help reduce the ignorance about cervical cancer among the people of Zambia.
"When I was nursing my late wife, I realized that there's so much information I didn't know then which could have helped my late wife fight and survive cancer. But she was diagnosed too late because we didn't know about screening options earlier enough. This is believed is why my country's statistics are so high when it comes to cervical cancer prevalence globally; a lot of people just don't know. So, I aim to educate people about this cancer; what it is, what causes it, the risk factors and where they can get screened for early diagnosis."
The organization has accomplished many feats since its conception, including publishing a film in 2018, Monarch of Dreams, which won the Southern Africa best short film production at the Sotambe film festival. They've also done over 30 cervical cancer awareness episodes with a local radio station based in the Southern province of Zambia. Their productions have raised awareness to audiences of over 5,000 – and they hope to continue expanding.
The group has also grown in terms of locations – they have recently set-up their fourth provincial team allowing operations in Lusaka, Central, Northern, and Copperbelt. They have also established a working partnership for 2 of their groups in 2 provinces: Northern and Central. Their partners – Restless Development, Bakashana basambilile and Kasama Arts – help them through pieces of training and resource mobilization during outreach activities.
Zulu himself has also grown as a leader. He participated in the 2019 Mandela Fellowship program, the flagship program of the Young African Leaders Initiative (YALI) that empowers young people through academic coursework, leadership training, and networking. Each year, the Fellowship provides up to 700 outstanding young leaders from Sub-Saharan Africa with the opportunity to hone their skills at a U.S. higher education institution with support for professional development after they return home. Institutes focus on leadership and skills development in one of three tracks: Business, Civic Engagement, or Public Management. Zulu spent 6 weeks at the University of Delaware in Newark where he was given this opportunity with 24 other African nationals.
When asked about the challenges that the Rakellz Dream Initiative faces, Zulu stated that as a non-profit, he believes maintaining a stable volunteer team of over 50 in a third world country is not easy. Most of these youths are looking for paid jobs. To keep them still motivated and inspired after 3 years of volunteering is a great achievement for him. The Initiative's biggest challenge is accessing the resources to enable them to do more work. They are limited in financial resources and skilled human resources since they haven't secured a donor yet. Zulu usually finances most of the organization's activities from the little savings he makes from my formal work as a public service auditor.
Currently, Zulu and the Rakellz Dream Initiative are recruiting volunteers whom they have been training before they can engage them in their outreach work. They continue to collaborate with their partners to join platforms and speak to various communities.
Zulu is looking for partners that may be interested in helping their project goals. They aim to reach out and educate over 60% of Zambia's population aged 15 to 50 by 2025 about cervical cancer. They need help to fund their initiatives especially to reach out to those with limited health care access.
If you are interested in becoming involved with the Rakellz Dream Initiative, contact Robert Zulu at rakellzdream@gmail.com. Help them educate more women about the risks of cervical cancer by making a donation here: http://goto.gg/45492.