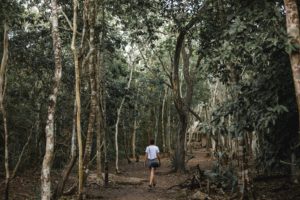 I was recently given the opportunity to attend DGHI's Regional Partners Workshop "Developing Collaborative Approaches to Global Mental Health and Maternal and Child Health Research" in Nairobi Kenya.
The goal in convening this conference was well communicated in the opening remarks by Duke Global Health Institute Director, Dr. Chris Plowe. He told us that the workshop was to be a forum for partners to build skills, share knowledge, and identify new opportunities to work together. I looked around the room bursting with seasoned global health professionals, faculty, researchers, and doctors and couldn't help but think of myself as a "tiny animal in a big jungle" and wonder how well I would meet these goals.
But after three days of consuming dense information from presentations and break-out sessions, I found that I had learned a lot in the big jungle, and that my experience was well worth sharing – especially with younger staffers who may be unsure of how to navigate the jungle in order to make the most of opportunities presented. Here are key lessons I wish to share:
One: Get inspired. Remain optimistic and embrace a positive attitude throughout the sessions no matter how minimally you may contribute. Try to find the silver lining because there's something about seeing the success of others that inspires you to put in the hard work and move to the next level.
Two: Be equipped. This was a great opportunity to learn from experts, develop skills, spark inspiration, rekindle passion and hear research and ideas to enhance my thinking and understanding around both issues of mental health and reproductive health. The information flow and discussions really helped bring me up to speed on what's new and relevant in these fields.
Three: Don't be afraid of walking into the jungle.  You are not as small as you think you are and there will always be people around to support you in your journey and those scary challenges that you may encounter.
Conferences can be intimidating, especially for junior staffer. But let every opportunity to attend a conference be inspirational and energizing to connect with the greater research community and help build your expertise and self-confidence!