Story by Alex Lichtl, T'19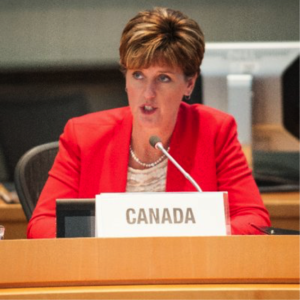 Canada is emerging as a world leader of gender equality and sexual reproductive health and rights (SRHR), according to Sandeep Prasad, executive director of Action Canada for Sexual Health and Rights. The country hosted the 7th International Parliamentarians' Conference (ICPI) in October and also launched a Feminist International Assistance Policy (FIAP) in June 2017. Marie-Claude Bibeau, the Canadian Minister of International Development, has been a strong advocate for women's rights and said that since FIAP launched, 93% of Canada's humanitarian assistance has involved SRHR or women's empowerment. Minister Bibeau also announced in October that Canada will provide up to $50 million to Palestinian refugees, along with providing International Assistance to the UN Population Fund (UNFPA). Although Canada's official development assistance (ODA) of 0.26 to gross national income is below the 0.7 commitment, Minister Bibeau replied that Canada continues to lead in policies advocating for the most vulnerable populations and in investments for educating women in conflict areas. In fact, Canada announced a $3.8 billion investment in girls' education at the G7 leaders' summit in Quebec. Through these efforts, Canada has demonstrated its support for women's and girls' rights around the world.
We have  previously discussed Canada's commitment to Gender Equity on this website.