Blog by Faith Otewa
In my role as site coordinator of the Kisumu Center office, I've had the opportunity to oversee the "Hybrid Study," in which we are looking at integrating HPV testing into community health campaigns providing multiple other disease services, including HIV testing, family planning and TB testing.  Many of the experiences will linger on with us for many years to come; while some illustrate the challenges encountered in conducting research and community-based care in Africa, others show the power of community mobilization and knowledge.
It is the 10th week out in the field and the study team are getting ready to recruit at the 3rd set of campaigns. However, as if often the case in western Kenya, and certainly when we are working in tents set out in the middle of fields, the climate has had a big impact on study.  The harsh weather and copious rainstorms experienced in the month of May this vastly affected recruitment. There has been low turnout, slow streaming in of clients, campaigns had to start late and end early, and were set in muddy areas. However, this does not deter RAs from recruiting, and they diligently counsel, screen and interview women.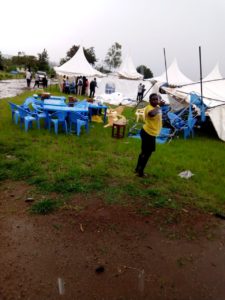 My attention is drawn to a participant; let's call her Awino (not her real name). Like any other participants enrolled in the study, she has no prior knowledge of HPV and is eager to learn more about HPV and cervical cancer. The study team ensures Awino understands what's the study is all about and her concerns satisfactorily addressed. She hands over self-collected sample to the RAs and says "please inform me of my result as soon as its ready, I must take this opportunity to be treated if I test positive as I don't want to die because of ignorance. I am a single mother and anything that betters my life is highly important."
After a few weeks pass, results are out and Awino's HPV test is positive. An appointment is made for a home visit to discuss the results. At the visit, after hearing her results and expressing an understanding of treatment, Awino informs the research assistant that she has been urging women in her community to test for HPV and take advantage of the study. Awino is not shocked by her results, and says she knows "prevention is better than cure" and if she did not get tested something great may have eventually developed.
Awino keeps her treatment appointment and has since then called the study team to express her gratitude and wishes all health facilities could offer routine HPV testing through self-collection and treatment.  Awino has since then been our ambassador out in the community!