If April showers bring May flowers, what do May flowers bring? June rainbows!
Each June in the United States, individuals across the nation join in celebrating LGBTQ Pride Month, a time marked by celebration, protest, activism, and, of course, the bright rainbow Pride flag. The tradition was born out of the 1970 Gay Pride March, which took place in New York City to commemorate the Stonewall uprising. As the LGBTQ movement grew, so did Pride marches and within a few years, this form of political protest had spread across the United States, eventually expanding from a single march to a month of events for all LGBTQ people.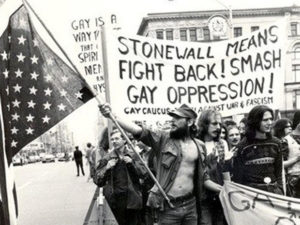 Over the years, Pride has shifted from primarily a political protest, to a more celebratory occasion. The increasing sociocultural acceptance of LGBTQ people and same-sex relationships has played a role in this shift, and the recent Supreme Court decision in favor of marriage equality is undoubtedly worth celebrating. Yet queer communities certainly remain marginalized in the United States. Same-sex couples still face legal complications when trying to become parents. 47 percent of transgender people are sexually assaulted during their lifetime. One in three Americans believe that transgender people are committing a sin. Perhaps most disturbingly, while the last several years have shown increasing national acceptance of LGBTQ people and issues, in many ways this progress came to a screeching halt in 2017. There was a significant decrease in people's comfort with "LGBTQ situations" (i.e. learning that a family member is LGBTQ) and a significant increase in LGBTQ people reporting discrimination. Further, a striking 129 anti-LGBTQ state bills were introduced during the 2017 legislative season. Though the bills were largely unsuccessful, their presence remains deeply troubling.
Such anti-LGBTQ violence and discrimination also occurs on a global scale. According to the 2017 State-Sponsored Homophobia report by the International Lesbian, Gay, Bisexual, Trans and Intersex Association (ILGA), 72 countries and territories around the world criminalize same-sex relationships. In Iran, Sudan, Saudi Arabia, and Yemen, as well as parts of Somalia and northern Nigeria, homosexuality is punishable by death. In Syria and Iraq, ILGA reports, the death penalty is carried out by non-state actors. One example of such vigilante "justice" is the Islamic State, which has carried out numerous public executions of individuals charged with homosexuality. Only 26 countries have legalized same-sex marriage, from the Netherlands in 2000 to Australia in late 2017. The same number of nations allow joint adoption for same-sex couples. The widespread global practice of performing "genital-normalizing" surgeries on intersex infants and children continues, despite the United Nations condemning such medical procedures as torture.
Violence and discrimination against LGBTQ individuals is a reproductive rights issue. When same-sex relationships are punishable by incarceration or even death, LGBTQ people cannot honestly share their sexual histories with their healthcare providers for fear of persecution. When LGBTQ-inclusive sex education is not taught in schools, queer people may lack the knowledge to engage in safer sexual behavior. When we create barriers for same-sex couples seeking to adopt children, we deny their right to choose if, when, and how they will become parents.
Consider the Trump administration's expanded Global Gag Rule (GGR), which prohibits nongovernmental organizations receiving foreign assistance from providing abortion care, referrals, or information. While this policy is a clear and catastrophic infringement on global reproductive rights, it will also devastate LGBTQ people around the world. In Central America, for example, an organization focusing on HIV prevention for high risk populations, including men who have sex with men, has lost its grant funding because of the GGR. In Mozambique, many of the Mozambique Association for Family Development (AMODEFA) clinics, which have historically been a safe and friendly place for queer folks to receive healthcare services, will be closing, leaving huge gaps in care. Some research from the United States suggests that young lesbian and bisexual women experience higher rates of unplanned pregnancy than their heterosexual counterparts, in part because they are excluded from many sex education programs. Reproductive health clinics that run youth programs tailored to lesbian and bisexual women may be impacted if they lose their funding due to the GGR.
Though LGBTQ rights and reproductive rights are often researched and discussed as distinct issues, they are deeply intertwined. When reproductive rights are under attack, LGBTQ individuals are often the first to suffer. As we continue to advocate for reproductive justice, we must be sure to center queer communities in our work. All people, of all sexual orientations and all gender identities, deserve access to reproductive health and freedom.
– Anna Katz, Communications Intern
Photo credit: Rick Egan | The Salt Lake Tribune & Leonard Fink