It's been a busy spring semester here at the Center for Global Reproductive Health. We opened the semester with the inaugural Global Reproductive Health Leadership Symposium which brought together ten east African researchers and over 25 Duke fellows, researchers and students for a three-day hands-on meeting at Duke. Attendees shared areas of research, participated in grant writing workshops, and received in-depth training on leadership and mentorship.
One of the key events from the Symposium was a lunch session "How Gender, Race, and Ethnicity Can Impact Leadership Opportunities". With a standing room only crowd, Lola Fayanju from general surgery, Nimmi Ramanujam from Pratt, and Provost Sally Kornbluth engaged in a lively discussion moderated by Kathy Sikkema on their career paths, decision points, and how they have defined themselves as leaders. They also shared key insights on what it felt like to be trailblazers in their respective fields. It was an incredible panel that brought together multiple different sectors and provided real-life context for the leadership training the participants received during the day.
The Symposium was an invigorating few days where new research ideas permeated all conversations. During the last session, our east African partners worked together in different groups to draft specific aims for current grant opportunities. Each of the groups included researchers from different countries, with a mix of PhDs and doctors of different specialties. Center staff is currently working with researchers to follow-up on these draft proposals and provide input and guidance to facilitate joint grant submissions in the upcoming year.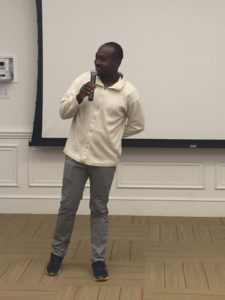 Fresh off the heels of the Symposium, we held the official launch of the Center for Global Reproductive Health on March 8, which was International Women's Day. This was a great celebration of both the accomplishments of women around the world, and an exciting new focus of work for the Duke Global Health Institute. Styled as storytelling hour, researchers from RTI and Kilimanjaro Christian Medical Center, and a Duke undergraduate student told brief stories about their passion for reproductive health work and what initially inspired them to pursue this field.
With the launch event and Symposium under our belts, Katelyn Bryant-Comstock, Program Manager of the Center, traveled to Kenya to assist with field office set up and preparing the site for student summer travel and the launch of two new research studies. Our field office, directed by Faith Otewa, is based in the heart of Kisumu, Kenya, and will be home to visiting scholars, students, and collaborators. We're rapidly filling it with furniture, study materials, and new ideas.
Our first research study based out of the Kisumu office is an exciting collaboration integrating HPV testing into a larger PEPFAR-funded multi-disease health campaign. Dr. Megan Huchko and Dr. Gita Suneja, are working with our Kenya team to analyze the uptake and acceptance of HPV testing in this setting. The health campaigns are underway and we look forward to sharing the results.
In early June, we'll begin a DGHI funded pilot study examining community health volunteer (CHVs) experiences, motivations, and attitudes. CHVs are a vital part in health systems, yet not enough is known about how to best engage CHVs, continue their engagement, and support their career trajectories. We'll conduct preliminary interviews with current and former CHVs, and CHV supervisors to tease out some of these larger questions and answers. Based on our preliminary discussions with county health officials, large gaps are present in CHV supervision and support for CHV supervisors. We will take our findings and present them to health officials to develop a collaborative solution for strengthening the CHV experience.
What's next? We've got a busy summer planned. In addition to the on-going research activities, we're hosting four student researchers in Migori and Kisumu, Kenya. Our Center Director, Dr. Megan Huchko, will host the DGHI Director, Dr. Chris Plowe, and the Duke Finance team as they visit faculty research sites. We'll also be conducting an initial scoping trip to consider creating a Duke Engage site in Kisumu.
Center activities are also ongoing at Duke, through both the Provost's Collaboratory Grant and the Big Data for Reproductive Health project. Over the summer a group of Duke students will work with Center core member Dr. Amy Finnegan through a Data+ grant. Their goal is to develop a web-based application to better visualize, understand and utilize data on contraceptive discontinuation from countries' DHS data. In the fall, a new Bass Connections team will work with key stakeholders locally and internationally to refine and disseminate the application.
Stay tuned for more updates from these teams and the Center!