Faculty Profile: Nimmi Ramanujam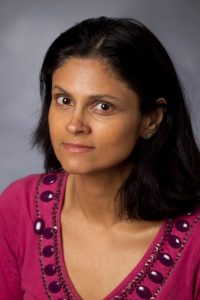 Dr. Nimmi Ramanujam serves as the Robert W. Carr, Jr., Professor of Biomedical Engineering, a Professor of Pharmacology and Cancer Biology, and a Research Professor of Global Health at Duke University. Since arriving at Duke twelve years ago, Dr. Ramanujam has founded the Global Women's Health Technologies Center and the Tissue Optical Spectroscopy Laboratory, through which she researches cervical and breast cancers, women's health disparities, and the development of diagnostic tools for implementation in low-resource settings. Her team is currently developing a Point of Care Tampon (POCkeT) Colposcope, which will allow women to screen themselves for cervical cancer.
Dr. Ramanujam took a break from her work to discuss cancer research, technology uptake, and the importance of focusing on the horizon of global health innovation.
How did you decide what technologies to work on?
For Dr. Ramanujam, who had already conducted research on cervical and breast cancers, choosing to concentrate on cervical cancer was about prioritizing the "next generation of problems" and getting a healthcare "best buy." Indeed, through focusing on this seemingly-singular issue, her team is able to engage with myriad health determinants.  
"Cervical cancer is emblematic of infectious disease, cancer, socioeconomic disparities…all those things are embodied in this one disease. Also embodied is healthcare delivery, healthcare systems and how dysfunctional they are," she said.  
These obstacles to effective healthcare can diminish uptake of health services. An example of this are multiple provider visits which could be financially infeasible or inconvenient for patients. Dr. Ramanujam thinks these challenges could be combatted through a "one health" approach, which condenses numerous appointments into one visit through tactics like immediate diagnostic tools.  
What's your favorite part of your job?
Perhaps appropriately, given global health's constant evolution, Dr. Ramanujam enjoys embracing change through her work, which prioritizes student growth through programs like Bass Connections.
"Duke allows you to be constantly nimble, something you couldn't do, I think, as easily in the corporate world," she said.  
As her team prepares to scale up its colposcope program in places like Peru, Dr. Ramanujam's sights are set not only on the implementation but on the impact.
"I like the idea of disrupting how people perceive healthcare–as opposed to any particular innovation–because, to me, the innovation is a means to an end," she said.  "That end is what I care about."