Faculty Profile: Melissa Watt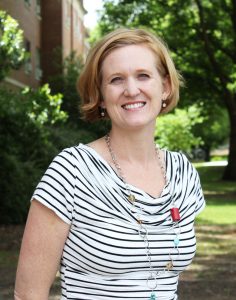 With research projects in Tanzania and Ghana, and interests ranging from mother-to-child-transmission of HIV to prevention of fetal alcohol syndrome to family planning to sexual trauma, Associate Professor of the Practice Dr. Melissa Watt is a proficient and passionate force in the field of gender-based health research at Duke.
We sat down with Dr. Watt in her office at the Duke Global Health Institute (DGHI) to learn what sparked her interest in global health, what has defined her time as a Duke faculty member, and what excites her about the future.
How did you become involved in global health and choose reproductive health as a focus for your work?
Referencing a process of self-discovery to which her students might relate, Dr. Watt recalled her undergraduate work in African Studies and Public Policy, which aligned with her passion for "international development and how development can best be transformative for women's equality and women's rights."
After completing her undergraduate program at the University of North Carolina, she did a master's degree in Gender and Development at the University of Sussex in the U.K. and took a position as a Gender Program Officer with the United Nations in South Africa. She explained that her experience in the field taught her "the power and the value of research" and motivated her to return to school to pursue a PhD and a career focused on women's health in Sub-Saharan Africa.
Today, Dr. Watt is deeply involved in the educational mission of DGHI. As the Director of DGHI's Master of Science in Global Health (MSc-GH), Dr. Watt helps emerging global health practitioners navigate their own early-career experiences, develop skills in global health research, and realize their passions.
She is currently mentoring two MSc-GH students who are evaluating delivery of family planning health services via community health workers in Ghana. "It's a real privilege [for me] to be able to support the training of young professionals and, in particular, to kind of help to develop their passions and abilities to conduct very community-informed research," Dr. Watt said.
Dr. Watt also teaches an undergraduate course on Gender and Global Health. "The purpose of this course is to help students develop a gender lens through which to analyze global health issues and design responses and interventions. Our students will become the future leaders in global health, and I want to be sure that they appreciate the influence of gender in the work that they do and that they develop a commitment to addressing gender inequities as part of their global health work."
Has there been a defining aspect of your time at Duke?
Dr. Watt enthusiastically described DGHI's emphasis on interdisciplinary collaboration, both across campus and around the globe. She especially appreciates how Duke's relationship with international partner sites has allowed her to support long-term research programs and contribute to the capacity building of local research teams.
She has worked at Kilimanjaro Christian Medical Center (KCMC) for the last eight years and says of that collaboration: "It's just been such a privilege to work with Tanzanian trainees who are emerging researchers and really sort of looking to build skills and abilities to address health issues in their own communities."
Is there anything exciting on the horizon, either in your work or in the global health field broadly?
Looking to the future, Dr. Watt anticipates a shift, spurred by the Sustainable Development Goals, in how development programs and health interventions perceive and appreciate the role of gender in shaping development and health outcomes.
"[Sustainable development] really prioritize[s] a focus on universality of human rights and equity and addressing the structural underpinnings of poor health and underdevelopment [that disadvantage women]," she said. "I think in terms of the language and the lens and the approach that we're using now, it's really come a long way in terms of initially thinking about women's health and empowerment in an instrumentalist approach (that is, how it can help achieve other goals) to recognizing it for its own value."
Read more about Dr. Watt's work in Tanzania here.