Funded by the Africa Initiative, the Center for Global Reproductive Health organized a speaker series emphasizing the work of people in the North Carolina Area on reproductive health in Africa. 
Stigma and Reproductive Health in AFrica
Panelists Megan Huchko, Director of the Center for Global Reproductive Health, Michael Relf, Associate Dean for Global and Community Affairs, SoN, and Godfrey Kisigo, 2nd year MSc-GH, discussed their work to better understand and reduce reproductive health stigma for people living with HIV/AIDS. The panel was be moderated by T'20 Saumya Sao.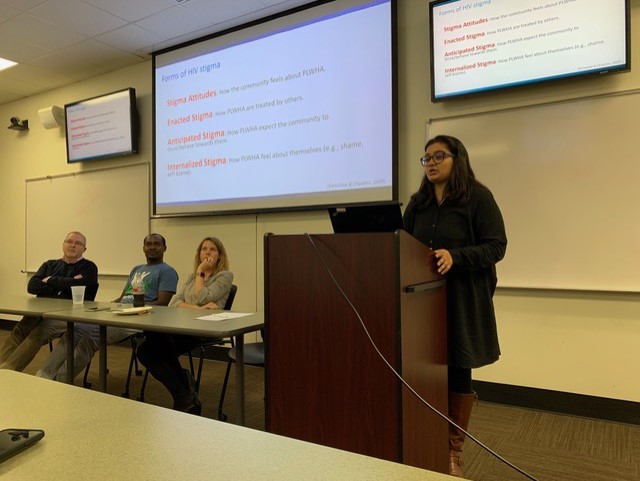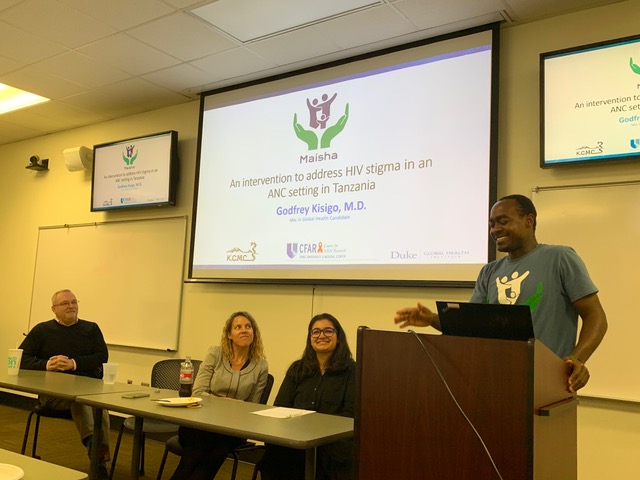 By Saumya Sao
On November 1st, 2019, the Center had its first lunch talk in the 2019-2020 Reproductive Health in Africa lunch series. The panel focused on HIV stigma and reproductive health. I had the pleasure of moderating the panel, which was made up by: Megan Huchko, MD, MPH who is an OB/GYN and directs the Center for Global Reproductive Health at DGHI; Michael Relf, PhD, RN who is the Associate Dean for Global and Community Affairs in the School of Nursing; and Godfrey Kisigo, MBChB, who is a second year MSc-GH student and Tanzanian physician.
Read more
Over the past year, I've had the privilege of working with Godfrey on a team led by Dr. Melissa Watt. Our team has been developing and carrying out an HIV stigma reduction intervention in Moshi, Tanzania. Throughout just two years of studying global sexual and reproductive health, I've seen how critical it is to consider the impact of stigma on care engagement and reproductive health education, so I was very glad to see this panel come together, and have three experts share their experience with students, faculty, staff, and other community members.
HIV stigma is crucial to address because it impedes care engagement at each step of the HIV care continuum, and overall reduces the quality of life of people living with HIV. At the stage of diagnosis, perceptions of HIV stigma can create a fear of testing, preventing people from learning their HIV status. At the stage of receipt and retention to care, people living with HIV might avoid clinics for fear of consequences that could come from involuntary status disclosure. And finally, HIV stigma acts as a barrier to reaching viral suppression, as people living with HIV might miss medication doses if they are not able to take pills discreetly.
Megan Huchko shared her new R21, which aims to develop a framework for intersectional stigma to capture the interaction of HIV stigma, HPV stigma, and cervical cancer stigma in western Kenya. Partnering with Family AIDS Care and Education Services (FACES) and the Kenya Medical Research Institute (KEMRI), Huchko's team has conducted in-depth interviews with a number of key stakeholders and is currently working on analyzing those interviews and developing a scale to measure intersectional stigma. Stigma related to HIV and HPV has not yet been well-characterized, so this work is important for understanding and improving care engagement among this population!
Michael Relf shared his experience working to understand HIV stigma in the US and beyond. Relf's team developed a video intervention grounded in formative research that was designed to mitigate internalized stigma among women living with HIV in the deep south. He is now collaborating with partners in Rwanda and Tanzania to adapt the intervention to these two countries.
Finally, Godfrey Kisigo shared the Maisha intervention, which is a stigma reduction intervention administered in an antenatal care setting in Moshi, Tanzania. The team is led on the Duke side by Dr. Melissa Watt and is a partnership with the Kilimanjaro Clinical Research Institute. Kisigo shared insights from an observational study that explored postpartum HIV care engagement in Tanzania and found that stigma largely contributed to poor retention in care for women living with HIV, which was the inspiration behind the Maisha study and intervention. The team developed a video and counselling intervention curriculum and has now enrolled 1500 pregnant women and their male partners in the study!
The panel shed light on a topic that is critical to the improving reproductive health globally yet is still not discussed nearly enough. It was inspiring to hear the variety of work being done at Duke to address HIV stigma globally. You can watch the recording of the lunch talk here. Be on the lookout for the next lunch talk in Spring 2020! 
Evaluating Quality in Maternal Health Interventions
Joy Noel Baumgartner, PhD and Rohit Ramaswamy, PhD, MPH, discussed their work improving maternal child health interventions in Africa using evaluation and research. Dr. Baumgartner is an Assistant Research Professor and the Director of the DGHI Evidence Lab at Duke University. Dr. Ramaswamy is a Professor of the Public Health Leadership Program and Department of Maternal and Child Health, as well as a and the Director of the Center for Global Learning at UNC Chapel Hill. 
By Uma Govindswamy
November, as a part of the Center for Global Health's Reproductive Health in Africa Speaker Series, sponsored by the Africa Initiative, Dr. Joy Noel Baumgartner and Dr. Rohit Ramaswamy lectured on the topic: Evaluating Quality in Maternal Health Interventions. Dr. Joy Noel Baumgartner is the Director of the DGHI Evidence Lab, the lead of the DGHI Global Mental Health Working Group, and a professor here at Duke University. She has been an active public health practitioner and researcher for over 20 years and has worked in countries such as Cameroon, Kenya, India, South Africa, Jamaica, Tanzania, Ghana, and Uganda. Dr. Rohit Ramaswamy is Director of the Center for Global Learning and a Professor in the Department of Maternal and Child Health at UNC's Gillings School of Global Public Health. His past research has focused on implementing delivery systems that improve the quality of healthcare for women in low-resource settings including India, Ghana, Nigeria, and Uganda, to name a few.
Dr. Baumgartner began the presentations with an evaluation of the LifeNet quality of care training program on maternal and child health in Uganda. She discussed the limitations of medical records (with particular reference to time-sensitive actions), the impact of perinatal depression, and the necessity for integrating mental health services into maternal health services. Dr. Ramaswamy then continued by discussing a multi-tiered quality improvement strategy to reduce maternal and newborn deaths in complex delivery systems in Ghana. He discussed the necessity for a multi-faceted implementation process including developing change agents, building a foundational capacity in QI and research, identifying clinical and operational gaps in each step of the process, building clinical capacity to close those gaps, assessing learning and performance, and using rapid implementation cycles to continuously improve. He presented this framework through the example of hand washing and hygiene at the clinic in order to reduce the risk of spread of disease or illness in the context of maternal and newborn health.
Both Dr. Baumgartner and Dr. Ramaswamy stressed the importance of monitoring and evaluating quality of care in the context of maternal and child health. Their implementation strategies differed significantly – with Dr. Baumgartner's focusing moreso on integrating maternal and mental health to improve both maternal and child health outcomes, whereas Dr. Ramaswamy moreso focused on the need for a systemic overhaul through a multi-faceted approach to close all the gaps in care continuously arising. Their approaches are both focused on long term systemic change to strengthen healthcare security networks for women and children, which is extremely important to begin to address now in the context of maternal and child health.