Faculty Profile: Joy Noel Baumgartner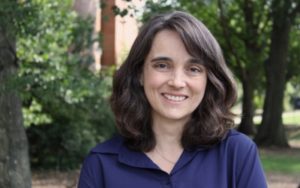 After two decades working in global health, Dr. Joy Noel Baumgartner has a comprehensive research portfolio that reflects the field's most pressing concerns. She has addressed wide-ranging issues—from psychotic disorders among adults to maternal and child health—in diverse contexts, including numerous African countries.
As the semester drew to a close, we sat down with Dr. Baumgartner, an assistant research professor and the Director of the DGHI Evidence Lab, to learn why she is enthusiastic about global reproductive health, how she overcomes professional setbacks and what advice she has for students.
What sparked your passion for global reproductive health?
Dr. Baumgartner says her interest in global reproductive health stems from her background in family planning research. After earning a PhD in Maternal and Child Health, she came to appreciate the inextricable nature of these two health sub-fields.
"Family planning or contraceptive services [are] one of the biggest drivers and determinants of maternal and child health outcomes," Dr. Baumgartner explains. "And yet we still don't have a lot of great methods. We have choices, but the available options are still not meeting the needs of all women, men and couples. So much more research is needed to support a fuller range of contraceptive options."
What motivates you to continue your work after facing research-related disappointments?
Particularly interested in "systems, policies and providers," Dr. Baumgartner understands first-hand how these forces can obstruct family planning access. For example, political factors thwarted her efforts to implement an adolescent pregnancy prevention program in Uganda with local colleagues.
"There are just a lot of complex adolescent health policy issues, especially if you're working with the education sector, and so it just got really tricky," Dr. Baumgartner explains.
When asked what motivates her to overcome such disappointments, Dr. Baumgartner describes the target community's desire for contraception. Parents and adolescents in Uganda recognized the benefits of family planning, including lower pregnancy-related school dropout rates. Though unable to address their needs, Dr. Baumgartner and her team have turned this research setback into a learning opportunity. In March, they shared lessons from this experience through a lecture at DGHI.
"[This work is] messy, and it's fun, and you have to have a long-term vision of being in it. Otherwise, you get frustrated and leave the field," Dr. Baumgartner says.
Do you have any advice for students interested in entering family planning?
"Besides do it?" Dr. Baumgartner quickly replies, laughing. Throughout our conversation, she alludes to breaking down barriers and securing women's rights to, in her words, "chart their future and their lives." Here, she more directly equates global health work and social justice.
"[With family planning,] you can't just do programming or just do research. You actually have to be an activist too and speak up about it all the time," Dr. Baumgartner advises students.
Still, rights-based approaches can be tremendously diverse. According to Dr. Baumgartner, reproduction is a population-wide issue and intersects with multiple other aspects of health.
"[There are] lots of opportunities. [Family planning] fits into and complements all sorts of interests," Dr. Baumgartner says. "So for people who say, 'I'm just interested in HIV,' family planning fits. If they're interested in Maternal and Child Health family planning fits. If they're interested in, you know, X, Y and Z, you can figure out a way to squeeze family planning into that." This perspective aligns with other global reproductive health leaders who advocate for family planning as a key investment for reaching a range of Sustainable Development Goals (Starbird et al., 2016). "The opportunities are tremendous."
Optional Reference
Starbird E, Norton M, Marcus R. Investing in Family Planning: Key to Achieving the Sustainable Development Goals. Glob Health Sci Pract. 2016 Jun 27;4(2):191-210.