The Seminar Series: Stories From Africa, Financing Health in Sub-Saharan Africa took place at Duke University on Thursday, October 18. Led by Gavin Yamey, the seminar featured a panel of speakers: Sarah Bermeo, Associate Professor of Political Science, Duke Sanford School of Public Policy; Charles Muiruri Program Director at Duke Global Health Institute and Co-founder Association of Research Administrators in Africa; Kaci Kennedy, Associate Research, Duke Center for Policy Impact in Global Health; Godfrey Kisigo, Masters Student DGHO, Physician at Kilimanjaro Clinical Research Institute, Tanzania; and Osondu Ogbuoji, Deputy Director, Duke Center for Policy Impact in Global Health.
The seminar opened with an introduction to global health from a very optimistic perspective. Global health is a cutting edge field that focuses largely on improving the future for humanity. Initiatives in global health are making large and wide impacts, for example, in fields such as child wellness. However, there are also still huge numbers of people suffering from illnesses and burdens that should be prevented – there are serious outbreaks of tuberculosis that need more attention.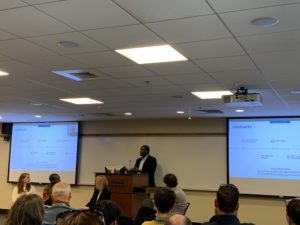 Osondu Ogbuoji pointed to financing public health in Africa in relation to the MDG's (millennium development goals) and SDG's (sustainable development goals). These goals include ideas such as ensuring healthy lives, reducing child mortality, eradicating HIV/AIDS, etc.- many of which describe problems Africa heavily faces. He also noted the health spending per capita in Africa compared to the rest of the world is very low; 38% of Africans delay or forgo healthcare due to high costs and 11% of Africans become poor, every year, from using healthcare. In order to spread initiatives of the MDG's and SGD's, Africa needs to see a financialization of health in a way that is affordable for its citizens to have access to care.
Professor Sarah Bermeo presented her knowledge on the status and politics of health aid. The importance of donors has greatly increased and many organizations financing health initiatives are pulling from the same set of donors. But, there is only so much money to go around and there is a need for more contributors. Professor Bermeo explained the significance of complementarity in the health finance world. Differing institutions must communicate and work together in a productive manner to effectively combat health problems.
Godfrey Kisigo shared insight on Tanzania. HIV/ AIDS financing as part of the National HIV Prevention Operation Plan has created an intervention to encourage citizens to know their HIV status and get tested regularly. The goal is to prevent the spread and mother to child transmission of HIV.
Kaci Kennedy voiced research from the global health engagement between China and Africa. She focused on three key points: 1. Chinese aid is not new. 2. Chinese aid is growing and 3. Chinese aid is high profile.
Charles Muiruri specifically discussed development management in Africa. Development in health can only occur after research has been conducted about the situation at hand. So, the challenge for research capacity is strengthening. Most countries have a heavy reliance on foreign funding for health development and this creates an environment which lacks sustainable research. Research needs to be internally led and brought about, but without money to do so, the countries cannot meet their needs.
The panel expressed a push for countries to invest in global health now. People should not expect the government of countries struggling to run or develop health initiatives. However, it is pertinent that policy changes are made in order to make shifts in the global health fields. There needs to be more communication between people in health fields and people in finance fields. Those deciding where the money needs to go must have a different approach because current health measures are not the most effective. The ministers of finance have to realize the importance of investing in health, education, and human capital for the future of the world.